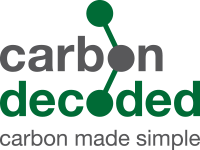 Carbon Decoded specialises in energy
management working with businesses of
all shapes and sizes to help them manage
their carbon responsibilities.
We work very differently to other consultancies with very much a sleeves rolled up approach, our aim is to work alongside teams understanding issues and constraints, working to share and build energy management knowledge in the business and to find constructive and effective changes that deliver those all-important energy efficiencies and financial savings.
Our core services for clients:
Scoping how and where energy is used in the business including electricity, gas, renewables and other fuels such as LPG, Gas Oil and energy for transport; building understanding, control and management in the business.
We work strategically and operationally with businesses to develop and support commitment to organisation-wide energy awareness and planned carbon reduction.
Providing energy awareness coaching and training to facilitate or to support managers delivering behavioural change, either on site or at a distance.
Fully supported routes to Streamlined Energy and Carbon Reporting (SECR) from compliant data management and auditing, to validated intensity metrics and calculations to Company House reporting.
Energy Savings Opportunity Scheme (ESOS) again a full service from review, scoping, data analysis, onsite audits, proposed savings projects, evaluation, and prioritisation of opportunities, including where required preliminary investigation of suppliers and procurement support.
Consultancy support for ISO 50001 from board engagement, to policy development, implementation of a full Energy Management System (EMS), energy awareness training, practice audits and portfolio building for assessment purposes.
Measurement and verification of energy projects to accurately evidence savings using the International Protocol for Measurement and Verification of Projects (IPMVP) methodologies.
Where manufacturing businesses are eligible for Climate Change Agreements (CCA), we can support liaison with the sector agency and Environment Agency, application and subsequent monthly reporting processes. Similarly, where a business falls within the scope of the Mineralogical and Metallurgical exemption (MINMET) we can ensure full support.
We can advise on all aspects of SECR, ESOS, ISO 50001 and IPMVP, as well as CCAs and MINMET, we specialise in breaking down the technical detail and ensuring our clients understand their obligations and the key deadlines and remain compliant.
For more information, please contact on 07733 300 066 or email sue.spilsbury@carbondecoded.co.uk
© Carbon Decoded Limited.